Venetian & Roman Blinds in Crawley, Horsham &East Grinstead
CAH Blinds carries out a supply-and-fit service for Venetian and Roman blinds in homes and workplaces across Sussex and Surrey. As two of the most elegant, yet versatile, designs in our range of made-to-measure blinds, these styles provide the perfect finishing touch to any room. Whether fitted as conservatory blinds in Crawley or throughout an office building in Horsham, our bespoke service provides results that never fail to impress.
Based in East Grinstead, the team at CAH Blinds visits our customers in their homes and workplaces. Whether in the day, evening or at the weekend, we undertake consultations and sample presentations to ensure that the final choice matches the existing interior.
To book an initial consultation in Crawley, Horsham or the surrounding areas, please contact us. A member of our team will inspect the chosen window areas, listening to the visions of our client while offering advice backed by more than 15 years in the industry.
If homeowners accept our free, no-obligation estimate for their proposed work, we can begin the process of designing, manufacturing and fitting the ideal Venetian or Roman blinds for their property.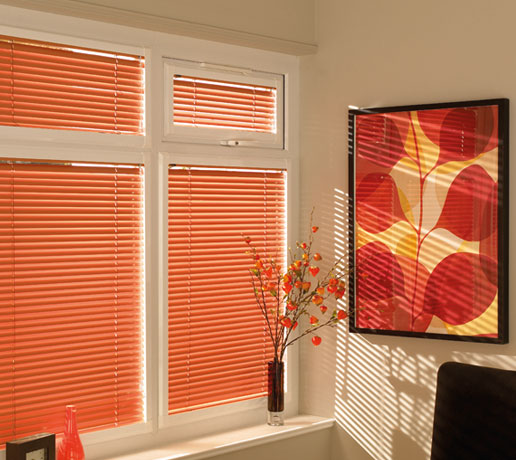 Venetian Burnt Orange
Roman Ezra Aqua
Venetian & Roman Blinds | Making the Right Choice
Below, we have taken a more detailed look at the properties and benefits of Venetian and Roman blinds.
Venetian Blinds –
These made-to-measure blinds come in a variety of colours and effects to complement the surroundings of any home or workplace in Crawley, Horsham or the neighbouring areas. Made from durable aluminium, these blinds come in their traditional metallic look, wood-effect finishes or they can be digitally printed with company logos or personal photographs.
With their horizontal slat design, Venetian blinds can be set to any angle in order to control the amount of light entering the room. When need be, they can even be raised entirely out of sight, offering an unobstructed view through the window.
As one of the most versatile made-to-measure blinds on the market, the Venetian design achieves outstanding results in any room. To date, we've installed this style as boardroom, office, kitchen, lounge, bedroom, bathroom and conservatory blinds across Crawley, Horsham and East Grinstead.
Roman Blinds –
With their characteristic flowing folds, Roman blinds create a luxurious soft window dressing. Due to the nature of the fabrics used in the manufacture of these made-to-measure blinds, Roman designs are best suited to bedrooms, dining rooms and lounges. Available in a wide range of shades and fabrics, we have the perfect Roman blinds to suit the needs of any homeowner in Crawley, Horsham or the wider Sussex and Surrey area.
Operated by a side-winder chain control, our customers can raise or lower the blind depending on the position of the sun throughout the day. During the installation process, we either carry out a top ceiling fix or a face fix to the wall or window frame, whichever provides the best results.
As customisable made-to-measure blinds, our Roman styles come with a choice of linings as well as thermal insulation and blackout options. We include child-safety devices as standard.